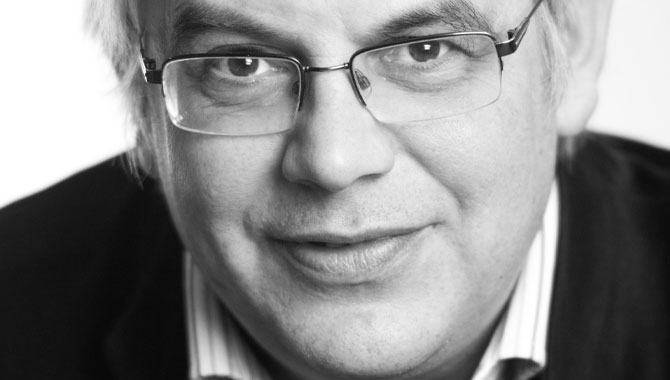 We caught up with Michael to learn more about his history in licensing, the origins of Sunny Side Up, and why creativity is the secret to successful lyric licensing.
Sunny Side Up represents licensing opportunities for some of the largest libraries of song lyrics both in the UK, and globally.
Run by Michael Gottlieb and Nick Cooke, the agency holds representation rights to the copyright of millions of songs with the world's leading music publishers and delivers innovative products across an array of categories.
We caught up with Michael to learn more about his history in licensing, the origins of Sunny Side Up, and why creativity is the secret to successful lyric licensing.
Michael! Great to catch up, welcome to Brands Untapped! To kick us off, how did you find yourself in the licensing industry, or was music always a focus?
Well, professionally I started in banking… It couldn't be more removed from licensing! But I grew up in the music industry because my father ran record companies. He joined EMI in 1963 when The Beatles first burst onto the scene. He ran EMI Denmark and then EMI Italy later on in the Sixties. He released all The Beatles records and then he was headhunted to set up Polygram in the UK and was chairman there for 10 years.
It sounds like an incredibly exciting industry to be close to.
Yes – as an example, Bill Martin, who wrote Congratulations for Cliff Richard among other songs, was a family friend. So yes, through osmosis I had music in my background.
"We did an apparel deal around The Sound of Music. The packaging was literally brown paper packing tied up with string. It was one of the best creative ideas I'd seen."
Seeing as you started your career in banking, how did licensing enter the scene?
I hated banking! So I went to see the guy who ran Disney in the UK and he said he'd employ me – but he didn't! But I used that to get an interview with Warner Bros. I said: "If you don't employ me, I'll join Disney" – which was a bluff, but they employed me!
Ha! So now you've bluffed your way into the industry, what next? Were you involved in the music side of Warner?
No, it was on the film side. I worked on things like Batman, Looney Tunes and Robin Hood: Prince of Thieves. I was there for four years and then I left licensing for a bit to run a theme park in Devon, but when I came back, I had an idea around lyrics. I was at what turned out to be the last New York licensing show, and I saw the chairman of Sony/ATV. I told him that I could get The Beatles lyrics onto Mothercare product.
Now I don't want to assume this was another bluff Michael…
Ha! Well, I did get The Beatles lyrics onto Mothercare product, but yes, at the time it was a bluff! I hadn't done the deal or even approached Mothercare at the time – it was just an idea. He gave me the rights and I've represented Sony/ATV on and off ever since.
There we go; if in doubt, bluff! And the range went well?
Yes, the Mothercare range was award-winning – we did babywear with 'She Loves You' and 'Baby You Can Drive My Car' on it, as well as things like 'Daddy Cool'. We then did an apparel deal with Sainsbury and EMI in 2009 which won a Licensing Award.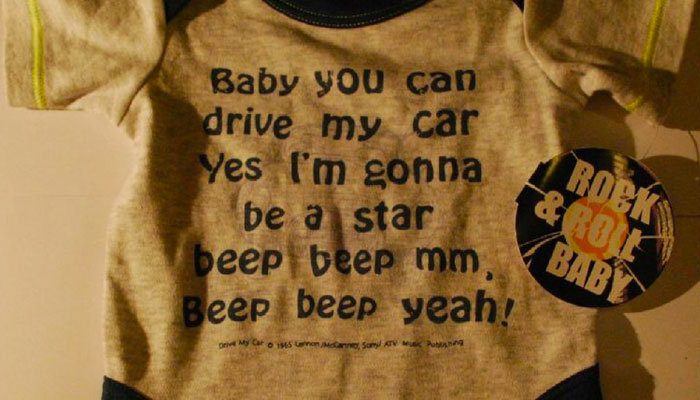 Every company I've ever worked with since, I've always taken music with me. Eventually, I set up on my own in 2014 and it was all centred on lyrics.
And this is Sunny Side Up, your lyric licensing agency?
Yes, it's been great fun, but it's been tough! I mean if they thought the retail situation was bad in 2009, now it's 100 times worse. But over the course of it all I've built up great relationships – I'm still doing business now with someone I worked with back at Warner Bros and Anne Bradford from Poetic Brands. I've known her for 15 years… We're working with her now and she also did the original Mothercare designs with me.
How key is that relationship side of the licensing industry?
It's vital; this business is all about relationships. At the end of the day, distribution is really important, but I've always believed that if you have a great idea, the money will follow!
Lyrics don't have the same wealth of supporting material that movies, TV shows or other character-driven properties likely have. Do you think your partners have to be a bit more creatively driven to work on lyric-based products versus character-driven IP?
Yes, they absolutely do. There's been a Beatles merchandising programme which has won lots of awards and it's really good – but the lyrics are separate rights. You can argue, as I have done many times, that the rights to lyrics are the ultimate intellectual property, but you don't get image rights with them. You have folks like Bravado who have image rights for the likes of Queen and The Rolling Stones.
"There is a lyric in 'Ob-La-Di, Ob-La-Da' that goes: 'Happy ever after in the market place.' That was the heading on my presentation to Mothercare back when we did that deal. It helped and it worked!"
If you look at something like Looney Tunes, there'll be a style guide and millions of hours of shows and visuals, so I think you do have to be more creative when it comes to lyrics – but I find that more rewarding. If you get a lyric-based licensing programme off the ground, you know there's been a lot of creativity, blood, sweat and tears involved.
One of the best things I was told by a Warner Bros guy was "You just gotta believe!" That is very, very apparent in some areas of merchandising, but when it's done properly – with innovation and creativity at its heart – you can really hit the spot.
Can you think of any of your deals where a left-field idea, or a particularly creative bit of design helped a range soar?
We did an apparel deal in Australia around The Sound of Music. The packaging was literally brown paper packing tied up with string. It was one of the best creative ideas I'd seen. They were pyjamas featuring all of the favourite things. It was great.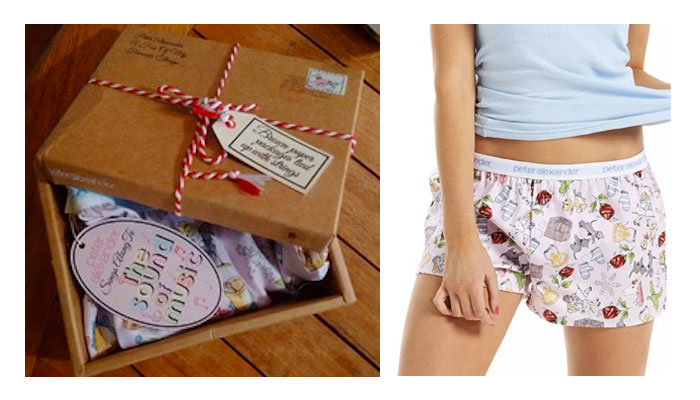 A lovely idea!
Yes, and one more thing that comes to mind while we're talking about creativity that's related to what we spoke about earlier… When I went to see the Sony/ATV chairman in New York, I had a Lennon-McCartney lyric from 'With a Little Help From My Friends' sewn into my suit!
Ah! Which lyric?
'Would you believe in a love at first sight? Yes, I'm certain that it happens all the time.' A niece of mine was with the Royal School of Needlework, so it was done really well! I think that had an effect on the chairman when I showed him, and thinking about it, I've never done a deal for a suit with lyrics on, but I'd love to!
Sounds like a plan! Now, we should delve into more of your deals, so could you tell me about this recent Christmas launch you put together for Primark?
We did a line of Christmas sweaters for Primark. Now Christmas sweaters have been going on for years, but Christmas sweaters that use sound is something new. It's normally been a little Jingle Bells tune that plays on your sweater, but we have an alliance with a professional recording studio so we recorded 'Santa Baby', 'I Wish it Could Be Christmas Everyday' and 'Winter Wonderland'.
Those three sweaters went into Primark and we sold nearly 100,000 of them over two years. That is a financial result, but it's also a win for creativity. It's also as good as result as you might get with a character-driven deal.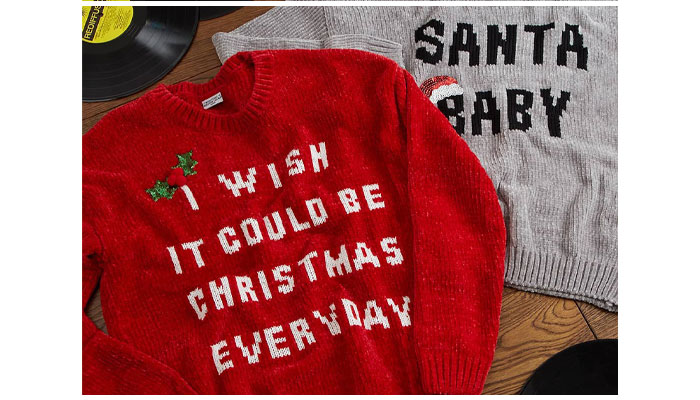 Are there cases when a licensing programme based around lyrics of a song can be stronger than a potential programme built around the artist behind it? There are plenty of songs I love, and would buy lyric-based products for, but I couldn't tell you who sang them.
Yes, there are millions of lyrics, and more lyrics than artists of course. But that's the difficulty. I got an email earlier from someone asking me to send over the lyrics we represent, but it would be like a never-ending wedding speech!
How many do you look after?
Well Sony/ATV have around four million alone and BMG have about two million, so I reckon we're up to about eight or nine million.
Wow! What makes a song ripe for licensing? Are you looking for that one, well-known snippet that you can build a range around?
You're trying to attract people's attention to your product, so you want a line that stands out. But we often have a feeling about what could work commercially.
So how does it work? Would I come to you and say "Hi Michael, we make tiki-mugs and we'd love to do a range featuring the lyrics to Blue Hawaii by Elvis" and then you'd work your magic?
Well unfortunately Billy, with Elvis, it's very difficult to get his lyrics. We're dealing with his estate now, of course, and there's lots of different publishers involved. I know this as I'm actually trying to get something done for an Elvis Presley song right now and it's taking forever. I would never go on a call and recommend Elvis lyrics to a partner as I know that nine months later we may not have got anywhere.
Here's a good example actually. I did a deal with Chrysalis for a 'Puppy Love' plush toy for Tesco. It played the song and did well. I wanted to do a follow-up with some Rod Temperton songs – he wrote hits like Michael Jackson's Thriller. The guy from Chrysalis said "Good luck with that!" I said "What do you mean?" and he said "Rod Temperton is on his yacht in the Caribbean and he doesn't have a cell phone!"
Ha! I can imagine that may slow things down! And I suppose it's complicated further if a lyric has several songwriters attached?
You have to go to each publisher, and every person involved has to be okay with it. We once cleared 95% of a song, and went to the lead singer who had 5% but they said no. It invalidated the rest of the approvals and that's tough. That said, having done it for a while, you do start to know what's possible and what isn't. For example, Blur and Oasis lyrics are almost impossible. Led Zeppelin lyrics are also pretty much impossible.
Bang goes my idea for a line of 'She's Electric' phone chargers.
Ha! Well, it's important for me to be totally honest with people! If someone comes to us with 'Whole Lotta Love', they'll likely go home with 'Whole Lotta Love'!
Where are the big opportunities for lyric licensing? We know it works in apparel, but could you ever see yourself doing a deal in publishing or board games for example?
There's lots of opportunities, and I know I would say that, but look at greetings cards. You can relate each occasion that someone might buy a card to a song lyric. Songs are inspired by emotions and social expressions and that's what greeting cards are all about.
Toys and games is a big area for this too. As I mentioned, we did the Puppy Love plush puppy, and I actually met Donny Osmond in 1972 when I was 11 because my Dad was chairman of Polydor, which was his record company.
Yes! We have a snap of that here!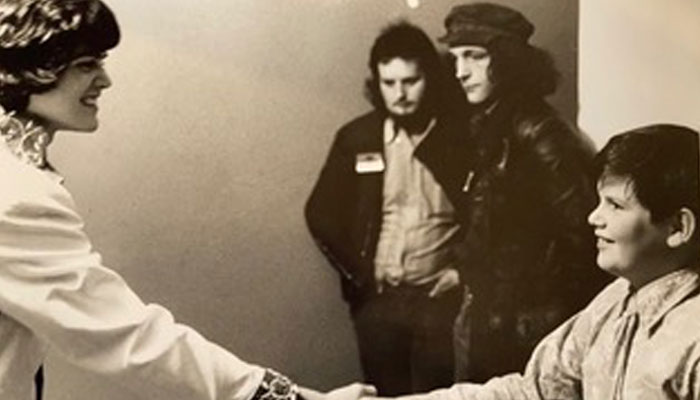 There we go! Well, I presented Donny Osmond with a Puppy Love toy in Vegas in 2010 and he pretended he remembered me!
We have that too, so we can do a 'then and now' comparison! Donny looks older in the first picture!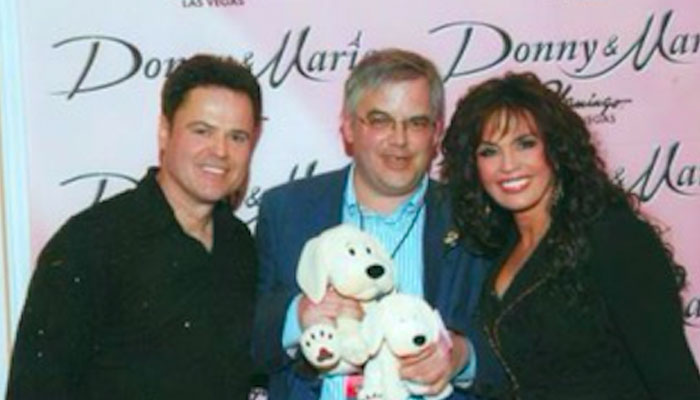 Haha! I actually ended up representing Donny actually – we did a Danilo calendar I think! But when I got the first Puppy Love toy, I showed it to my Dad. He had released Puppy Love in 1972 and it had got to number one. The look on his face when he saw the song playing through a puppy was quite amazing!
Lovely – and you've also worked in board games right?
Yes, I've actually done an Abbey Road board game in the past. It was great fun. Here's an example of persistence – everyone was telling me that it couldn't be done, and even our partner in the toy space that had done our previous game, Play That Tune, wasn't interested.
I remembered back to my Warner Bros days of being on the set of things like Batman, where everyone was really excited to be in Gotham City. I thought there had to be something similar where I could stimulate demand, so I arranged a tour of Abbey Road for the Tesco toy buyers. When they sat in the seat that George Martin had sat in when he was producing The Beatles, I knew it was working!
It turns out that the lead Tesco toy buyer – Nick Cooke – was a music nut and he's actually now my partner at Sunny Side Up. But he was sold on the Abbey Road game because of that emotional, exciting experience. If we'd been sat in a meeting talking abstractly about an Abbey Road board game, it wouldn't have happened.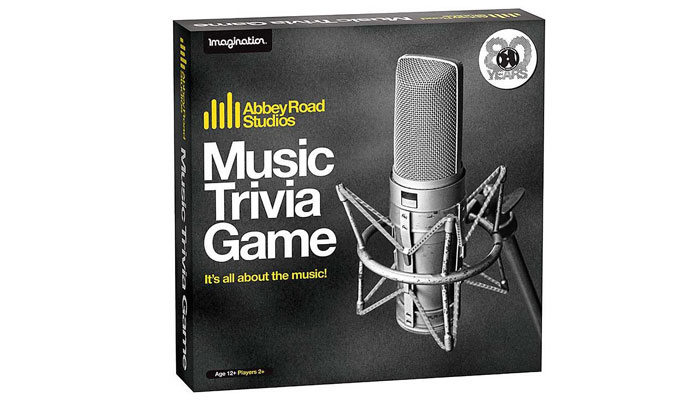 That's a brilliant story, and testament to how licensing is getting more and more experiential. Brands want their products to evoke an emotional connection and experience.
Absolutely. And the Abbey Road game did well. Nick bought about 30,000 units for Tesco. A few years into Sunny Side Up, me Nick and I started taking and now we jointly own the company and it's going really well.
So that's apparel, toys, games, greetings cards – any other categories that should have an eye on lyric licensing?
Graphic novels is an interesting area! Virgin Comics came to us years ago with an idea to turn Lennon-McCartney songs into graphic novels. They mocked up one based on 'Lucy in the Sky with Diamonds' and they were going to do every one as a comic. It was very exciting and Sony/ATV had approved the deal but Richard Branson went into the Virgin Comics office and said "We need money for rocket fuel" and he closed Virgin Comics. It was heart-breaking because it could've worked really well.
Ah, that does sound like it could've been amazing!
It really would've been. I've also spoken with numerous publishers about lyric books and nothing has come out of it yet. Music publishing and publishing are very different industries, but I'd love to do something there. But at the moment our focuses are apparel, toys and homewares.
Do you think the licensing industry has evolved to a point you need to have a real focus on creativity and great design to be successful and to stand out?
It has evolved and it's not like the licensing industry that I joined! When I told people I was in licensing, everyone thought I was selling alcohol. People know what licensing is now, and with that, people don't want to be bored. Especially with the pandemic, you've got to provide a bit of fun in people's lives, and in your own life!
And has music licencing changed since you started out?
Well the companies that focus on licensing artists' likeness are getting more savvy about product and developing great licensing programmes, and music has really come to the fore.
Spotify is now worth something like $67bn and music is always there when times are tough. In the Seventies, Slade recorded 'Merry Xmas Everybody' during the Three-Day-Week and the miners' strike. It was a feel-good song and everyone went out and bought it. In the pandemic, streaming has gone up exponentially.
The trouble with lyric licensing is that if music publishing is a loaf of bread, we're the crumbs! Publishers don't really pay attention to it, but it's been good for us because it means we haven't had much competition.
Finally, before I let you go, how do you fuel your creativity?
I listen to music. I was just listening to the Top 10 Christmas Tracks on Spotify actually because some designs have come in relevant to that, and it does fuel your creativity – as does paying attention to the lyrics.
There is a lyric in 'Ob-La-Di, Ob-La-Da' by Lennon / McCartney that goes: 'Happy ever after in the market place.' That was the heading on my presentation to Mothercare back when we did that deal. It helped and it worked!
George Harrison wrote a Beatles song called 'Only a Northern Song'. Northern Songs was the first publishing company for The Beatles. Not a lot of people know that, but if you're wanting to create product that appeals to Beatles aficionados, they would get the joke and know what that song is about. So there's vast corners of lyric licensing to be explored.
Thanks Michael, this has been a lot of fun. I should add if anyone wants to reach out to Sunny Side Up, you can find all the information you need at sunnysideuplicensing.com. And I'll put in a link to Only a Northern Song! Seems apt to end this with a tune!